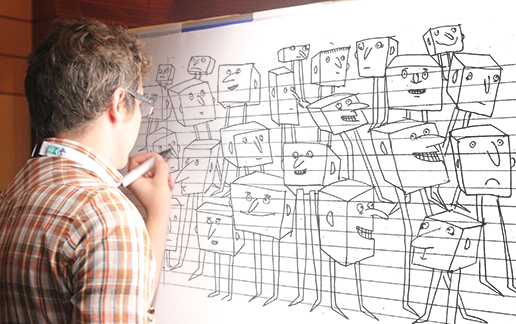 About
Mistermunro is the work of the Liverpool based animator and illustrator James Munro. James is an incessant doodler, and is excited to learn new techniques to bring his drawings to life.
A BRIEF HISTORY
Mistermunro Ltd was founded in 1867 by artist and philanthropist Sir Monty Munro. Monty would often use pictures to communicate with those for whom the written word was a mystery, and his experiments with zoetropes paved the way for modern animation techniques.
After his death in 1892, the business was passed down to many generations of gamblers, miscreants ne'er-do-wells, before being inherited by Monty's great great great grandson James Munro, born in Norwich in 1980.
A penniless doodler, James took up his pens and vowed to return Mistermunro Ltd to its former glory. Using pencils stolen from Ikea and bookmakers, James forged his own inimitable artistic style, cutting his teeth with posters for the local village duck race before moving to Liverpool to study sculpture under Venezuelan old master Miguel Borelli. Here James developed a keen interest in animation after a chance encounter with one of his ancestor's zoetropes.
Monty's original ideals of communication through pictures remains at the core of James's work. In 2012 he teamed up with writer Matt Cook, and together, with Matt grappling with the words and James supplying the pictures, they have produced many animations for a diverse list of clients.
James is also a proud member of artists collective More Than Minutes, which specialises in 'visual minutes' or 'live scribing'. Visual Minutes is the live capture of meetings, conferences or events with drawings and key words, leaving a vibrant legacy of what has been said. James is thrilled to work alongside a talented group of other artists, and finds the collaboration and interaction a welcome break from the solitary darkness of the animation studio.