Barbecues Burn More Than Bangers
In the summer of 2020, Litter Free Dorset launched a campaign to highlight the dangers of illegal barbecues on heathland. By the time of the launch in May there had already been several devastating wildfires on Dorset's heaths with serious damage to the ecosystem, wildlife & public safety. To reduce the risk of fires and litter, Litter Free Dorset came up with the idea of a funky dog, brought to life in this short animation urging people to barbecue responsibly & help #spreadlovenotwildfires.
Read More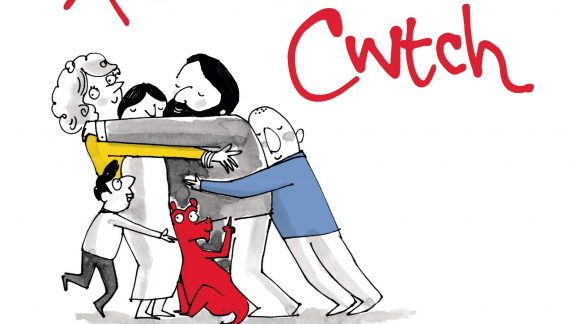 A Cuddle & a Cwtch
Cwtch rhymes with butch and is the Welsh word for hug. I was asked to illustrate this beautiful poem by Sarah Kilbride, describing this Welsh word for a whole lotta love and how best to share it. The book is published by Graffeg and each spread features a pen & ink illustration alongside Sarah's text, hand written by the author. Available from most bookstores.
Read More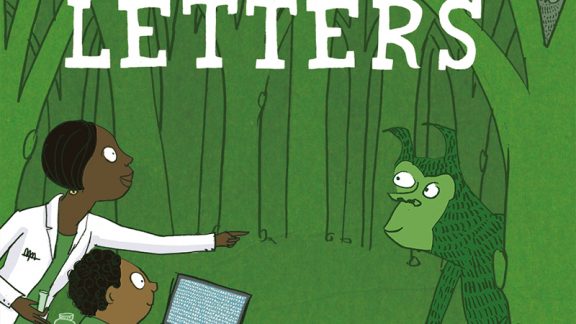 Little Letters
Evolutionary biologist and author Dr Tiffany Taylor's book achieves the monumental task of explaining genetics to young readers in a fun, simple way. Read the full story here: littlelettersgenetics.co.uk. With a full page colour illustration on each spread, it was lovely to draw up the explorations of scientist Berry and her two children as they decode the genes from a mysterious beast. The beast is a Rinkidink, star of the last book Little Changes, and an old friend to illustrate.
Read More
Love Your Harbour
So you're caught short out at sea- is it ok to poo overboard? Well, obviously not, as Litter Free Coast & Sea Dorset are keen to explain in this animation as part of their #LoveYourHarbour campaign. It's not every day you get asked to draw a flotilla of toilet waste attacking elderly swimmers, or a parent gingerly scooping a poo up from the beach using her daughter's fishing net. But this is an important message- correctly disposing of your waste on a boat can keep the water nice & clean for everyone.
Read More
Childhood Obesity
Share Action commissioned this short animation to show investors what they can do to reduce childhood obesity. By taking positive action, they can influence the food and drink industry to create healthier food environments for children.
Read More
Lily's Pain
Parents & professionals working together. Lily is complicated. Her disabilities mean she can't communicate her pain like other children. She relies on her mother to read her body and cries and translate her pain for healthcare professionals. This animation is the end result of a collaboration between researcher Professor Bernie Carter, writer Rob Young and parents of children who have profound cognitive impairment and complex health needs.
Read More
Coming to Spinal Clinic
Young people with Scoliosis might not know what to expect when they visit Spinal Clinic. This film aims to help by bringing together the advice and top tips from young people who have been there.
Read More
Children Coming to Hospital
Shortlisted for the BMA Information Award. Researchers from Edge Hill University gathered a group of young people to talk about their experiences of hospital, and how to improve the experience for others. They chose animation as the best way to communicate their ideas and advice.
Read More
Perinatal Mental Health
One in five women experience a perinatal mental health problem during their pregnancy and in the first year after the birth. NHS England commissioned this film to raise awareness of Perinatal Mental Health for health professionals like GPs, Health Visitors and Midwives.
Read More
Patient Carer Involvement
New Mental health services are being developed in Indonesia. Researchers from the University of Liverpool have been talking to patients and carers about how to shape these services, and commissioned this animation to raise awareness.
Read More